Graduated in Dentistry from the University of Seville, Dr. Fernanda Sánchez Gallardo (Ribera del Fresno, 1972) opened her dental clinic in La Zarza 25 years ago. Married and mother of three children, she is the youngest of nine siblings.
When we finished our studies, all of us colleagues were looking for a destination to open our clinics or make substitutions in the Social Security health centers to gain experience. Many of them had family members who worked in this field. It wasn't my case. Having that goal from the beginning of my career, every summer I requested to voluntarily attend the clinics of Dr. Coronada García, in Hornachos and Villafranca de los Barros, as well as consult with doctors Manuel Sanabria and Pedro González at the La Seguridad outpatient clinic. Social of Merida. I will always be very grateful to the three of them, because I learned with them to put into practice all the knowledge that I acquired each academic year at the university.
When I finished my university studies, I had to find the location of the clinic. I considered the possibility of opening in my town, but at that time there was a clinic in operation and I ruled it out. Having family residing in La Zarza already at that time and coinciding with the closure of an existing clinic in the town, I decided to start my adventure here.
What people make up your team?
Currently the team is made up of Isabel Tavero (Dental Hygienist), Mª José Moro (Dental Hygienist), Milagros Lavado (Administration and reception of patients), Julia Díaz (Dental office assistant), María Vivas (Clinical cleaning), Dr. Nicolás Carmona (Surgery), Dr. Carmen Villar (Pediatric Dentistry), Dr. Ana Belén Rodríguez (Endodontics) and me (General Dentistry, Orthodontics and Dental Aesthetics)
Why did you decide to study Dentistry?
I liked the healthcare branch in general. When I was studying COU I once accompanied a brother of mine to the dentist and I thought it was a curious job. At that time, the way to obtain the degree was to first study Medicine and then the specialty of Stomatology. I considered that possibility because, in addition, I also liked Medicine. A colleague from the institute informed me that they were going to implement a Dentistry degree in Seville in which the degree could be obtained directly. That idea attracted me, although it was difficult to get in because there were only 40 seats. They took me in Seville in Dentistry and in Badajoz in Medicine. I decided on the first option, otherwise I would have done Medicine and I think I would have liked it too.
What is the part of your job that you like the most?
The direct treatment with the patient, the human part of daily life and the variety of different treatments that can be performed in the same work day.
Apart from this, and within the treatments we carry out, what I like the most and think is most important is prevention, a basic pillar on which we must insist. From there, Orthodontics, Dental Aesthetics and combined rehabilitations of prostheses and major reconstructions excite me; In these jobs, it is where the patient really observes the final result of a team treatment. It is very comforting to see the happiness on our patients' faces when completing these jobs, as well as the smile that appears on their mouths when dismantling an orthodontic case. More than once the entire team has been moved as well as the patient himself.
How has the clinic evolved in these 25 years?
The clinic has evolved at the same time as dentistry, trying to adapt to the changes that have occurred in it.
At the level of knowledge, with continuous training of all clinic staff; at a technological level, adapting to computerization, digital radiology, intra and extraoral cameras, whitening lamps, CT, materials and techniques constantly renewed and updated, always being the quality of the products a maximum in the clinic.
Regarding the clinic staff, in the beginning the only dentist was me and the auxiliary staff performed the functions of receiving patients and helping in the dental office. If he had to perform more complex treatments, he referred patients to other professionals with exclusive dedication to that matter. Nowadays, in the 21st century, we try to offer all specialties. We have several professionals who offer their services in different clinics and also in ours. They come punctually and the patient receives the complete treatment right next to their home.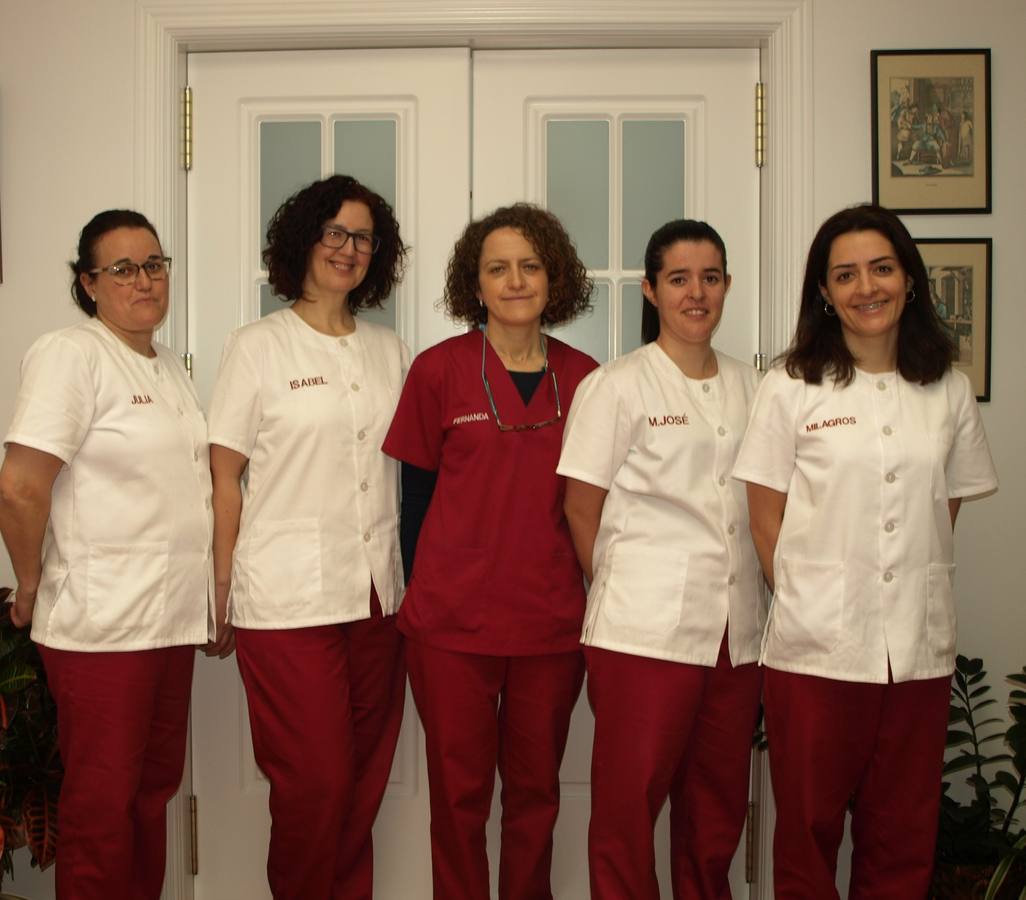 What are the main values ​​you offer to customers?
We try to offer our patients treatments of the highest quality and personalized attention, adapting to their needs, performing dentistry based on professional ethics and taking maximum care of the patient's health. Our attitude aims to be close and have trust as a fundamental pillar to ensure that the patient is calm and loses the feared 'dentist phobia'. We try to establish a lasting dentist-patient relationship that allows the most appropriate treatment to be carried out and with the guarantee that, if there is a problem, when the patient returns to the clinic, the staff that the patient will meet is the same one that treated him in his day. .
What are the recommended basic care for good oral health?
Basic care involves brushing your teeth correctly three times a day with fluoride toothpaste, using dental floss and fluoride mouthwash daily. To this we must add a balanced diet, low in sugar. It is important to reduce the intake of sugary and high-acid drinks and soft drinks.
To all of the above we add periodic visits to the dentist, since many oral pathologies develop silently and their symptoms are not visible in the early stages. Early detection and appropriate treatment are the keys to avoiding much more serious oral complications.
At what age and should we start going to the dentist?
We recommend making the first visit to the dentist within the first year of life since many children, before the eruption of their milk pieces has finished, have already suffered trauma, have cavities or occlusion problems associated with bad habits, such as using prolonged use of a pacifier, bottle with sugary products or digital suction. In this way, by establishing the first check-up at 12 months of age, you can begin with preventive measures in terms of habits, feeding advice and oral cleaning. From the moment the first tooth appears in the mouth, daily cleaning should be practiced with the little ones. You can use silicone or latex thimbles or brushes appropriate for the age and mouth of the child.
How often is it recommended to visit?
As a general rule, the ideal would be to visit every 6 months although, in an adult with a healthy mouth, it could be every year. However, for those patients who have needed a lot of treatment, who have had a lot of previous pathology or have poor dietary or hygiene habits, a higher frequency is necessary, ranging between 3 or 4 times a year. This is transferred to children and taking into account that everything evolves faster in them and they are constantly growing, meaning that their frequency must increase in many cases. Thus, a visit every 6 months is ideal, in risk groups this frequency sometimes amounts to quarterly visits.
Are you still afraid of going to the dentist?
Dentist phobia is a situation that we face every day. This fear can lead to worsening oral health. To overcome it, we recommend visiting the dentist frequently, it will help to normalize the situation, stay calm before the treatment, sometimes some prior medication or natural remedies are necessary, ask the dentist everything the patient needs to clarify their doubts, in the case of children, speak positively about the dentist in front of them, go with them from an early age so that they become familiar with the dental office and explain to them the importance of oral hygiene and practice it as a family, as a game, and finally, the most Importantly, choose a trusted professional who gives security and peace of mind to the patient.
Do you go to the dentist for health or aesthetics?
Traditionally, people went to the dentist when there was pain in the oral cavity. It is true that it is still one of the main reasons for the first visit to the dental office, but this trend has been changing as the dentist has become more accessible to the entire population. At the same time as concern about personal image increases, the population is being bombarded with excessive commercialization, a large amount of advertising, most of the time misleading, where aesthetics prevail and an attempt is made to get closer to the patient by selling aesthetics, forgetting many times of oral health. This is the message that professional dental associations continually spread and warn of the danger it entails.
It is important to remember that dentists are doctors of the oral cavity, which is an organ like any other in the body, susceptible to diseases, some of which can be very serious. The first function of the dentist is to diagnose oral pathologies and once the patient has recovered oral health, restore their aesthetics.
It is very nice to say that we are smile makers, but the important thing is to enjoy a smile supported by health. First, you have to work on oral health and then on your smile. "Good aesthetics and a beautiful smile are supported by good oral health."
Apart from doing root canals, fillings, etc. What hobbies do you have? What do you like to do in your free time?
I like to enjoy my free time with my family and I divide it between La Zarza and Ribera del Fresno, my hometown, enjoying the rest of the family and friends we have there. In addition, I love to travel, read, go to the movies, the theater, practice some sports activity such as walking, swimming, spinning, yoga…
But above all, what I appreciate most in my free time is the tranquility of home on the weekend, without having to look at the clock, reading a book, watching a movie, taking care of the plants or enjoying "end-of-the-week dentistry." week", which involves studies, work, course preparation, review of cases, photos… There are those in my family who say that my main hobby is my work and as the years go by I realize that they are right. I think that's very lucky.
Is there anything left in the pipeline? Would you like to add anything?
Yes, I would like to take this opportunity to thank all our patients who have trusted us over these 25 years. We will try to continue being 'your trusted clinic'.