Internet problems. Alphabet's main services (Google, Gmail, YouTube and the cloud storage service) have registered a temporary drop worldwide this Monday, according to the Downdetector website, which specializes in tracking system failures. The first access problems have been recorded on YouTube, which have continued in Gmail, Play Store and Google Meet. An hour later, it seems The services of the search engine giant are beginning to return to normal.
At 12:30 Spanish time, Down Detector has begun to register the first failure reports in Alphabe systemst. As seen on the map, the main problems are being caused in the Old Continent, since the drop in services has occurred in the middle of the working day. However, the first cases are also occurring on the east coast of the United States, as recorded in Down Detector.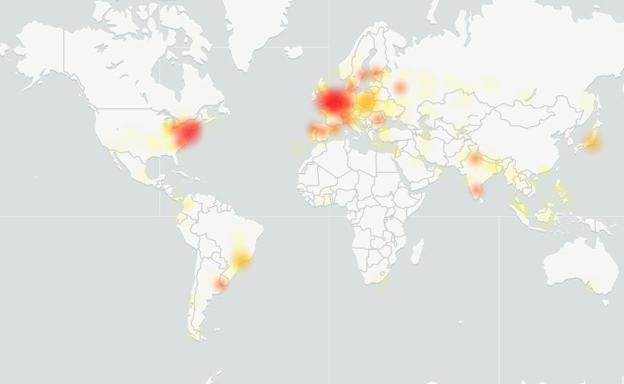 From the browser of any terminal it is impossible for users to access services such as Gmail or YouTube, which respond with a 500 error and peaks of complaints have been detected in Europe and the US.
Exactly the same thing has happened on mobile. Searches through the Google Assistant have not been possible since midday. or try to find apps on Google Play to install them. Pending an official statement, the YouTube Twitter account has confirmed the problems on its platform

However, despite the service being down, ads on Google's video platform continued to be displayed. At this time, it is unknown what caused the problem.
The entire Google ecosystem in black

In this error the entire ecosystem of the search engine giant has gone black. From YouTube to Google Classroom and without forgetting Gmail, Drive or its new online meeting solution, Google Meet.
A blow suffered by users, but also by the parent company Alphabet, which in the Wall Street premarket has lost more than 4%.
A very common failure in the Internet of networks, but one that amplifies its magnitude when it hits the technological giants. Last November, Amazon's cloud computing division suffered an outage that affected customers' ability to use about two dozen services, affecting streaming hardware maker Roku, software seller Adobe, to the digital photography service Flickr and to many media outlets in Spain.
Through a company spokesperson "today, at 3:47 AM (Pacific Time), Google experienced an authentication system outage for approximately 45 minutes due to an internal storage quota issue."
"Services that require users to log in experienced high error rates during this period. The authentication system issue was resolved at 4:32 AM Pacific Time. All services are working again. We apologize to all those affected. "We will carry out exhaustive monitoring to ensure that this problem does not repeat itself in the future," he added. It is highlighted that the failure was not caused by a cyber attack.