Born in Plasencia in 1982 and living in Cáceres, Jesús Mateos Brea is an engraver, muralist and graphic designer. For a week he has dedicated his body and soul to the mural that he already displays on one of the school walls.
Well, I started in 2000 doing graffiti on the street with friends. Eight years later I dedicated myself professionally to muralism.
-How many murals have you painted throughout your life?
Uffff, I don't know. Approximately 200.
– Apart from the murals that we can see in Extremadura, where else inside or outside of Spain can we find some of his works?
In Extremadura I have murals in many towns. Outside the region, in Madrid, Salamanca, Barcelona, ​​Morocco, Belgium…
– What is your academic or professional training? Did you study any career related to art or are you self-taught?
I studied Computer Science and worked for five years in a store in Plasencia. It is true that I had always liked to paint, but at that time I did not have adequate orientation nor did I know that a Fine Arts degree existed. Later, I began to be interested in painting and murals. Commissions began to arise and I decided to leave the job I had and dedicate myself to this. Later I studied Fine Arts at the Uned and at the School of Fine Arts of Cáceres I specialized in Engraving.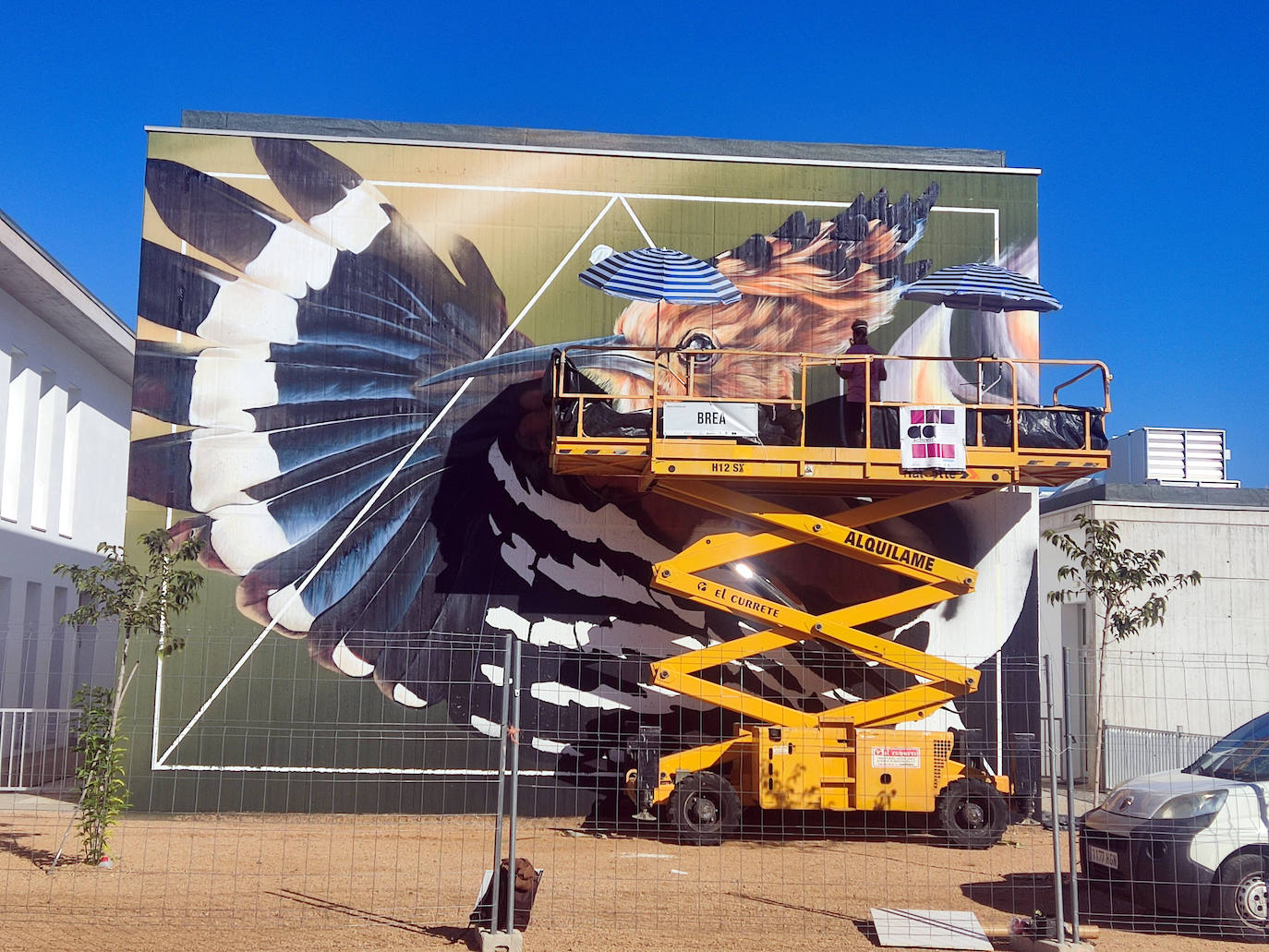 – In the case of the La Zarza school, why did you choose a hoopoe?
I have always loved animals, especially birds. When I go to paint, I do a little research on the context. He had informed me about the shelter of the cave paintings and the white earth mines, colors that are represented in the plumage of the hoopoe.
– What technique do you use for your creations? What is the process, the different phases of making your works?
First I study the area to look for the reason, I design the sketch on the computer through various photographs and adapt it to the dimensions of the surface. I divide the wall into grids and transfer the drawing to the wall. I give a base of plastic paint with a roller to apply, then the spray. I practically don't use the brush.
– Some of his murals are among the 100 best in the world, according to the Street Art Cities platform. What assessment do you make of this recognition?
Well, I'm excited, but more for the people than for me. The impact and promotion that the places where these murals are located can have gives me a lot of satisfaction.
– How long does it usually take you to create each of your creations?
Between one and two weeks, normally. In this school, from Monday to Friday, working hard, from dawn to dusk, practically.
– Many of his creations are related to nature. Why do you use this theme and what message do you want to convey?
I was born and have been in contact with nature all my life. My father is a nature photographer and I have spent a lot of time in Monfragüe. He was in the field all day. My family's relationship with nature has been constant, permanent. Therefore, I feel very comfortable in this habitat.
– What is the biggest difficulty you encounter when painting a mural?
The main difficulties are the weather conditions when working outdoors: heat, rain, etc. In this one, in particular, I have been very hot. He came home exhausted.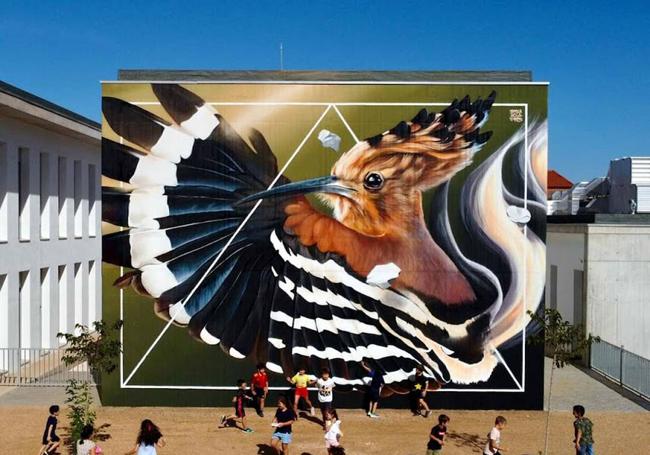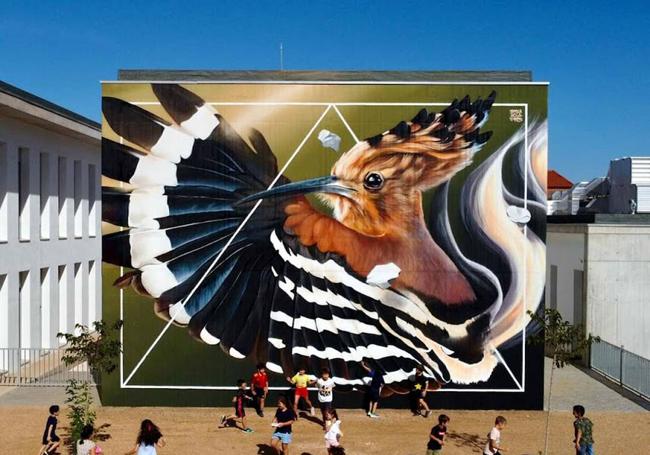 – Of your entire career, which work would you choose?
It is very difficult. I always stick with the last job
– What is the relationship between graffiti and muralism?
The common point is the vertical surface used in both movements. Graffiti has a more cultural or social content, related to the street, rap, etc. Muralism focuses more on the artistic part.
– Is urban art valued in Spain?
In my case, yes, I feel well valued, especially when you see the entire process of creating the work.
– How long does a mural usually last when located outdoors and exposed to the sun or rain?
Durability also depends on its location. If it is directly exposed to the sun it can last less, about five or six years, at least. When it is in a shaded area, it can last twice as long.
– What are your next projects?
I have three large projects in Valencia de Alcántara that will occupy me until the end of the year. Beyond this date I don't want to commit myself at the moment.
-Finally, what advice would you give to those people who are starting out in muralism?
Let them form. Training is basic in all areas of life. Training will help you a lot, and practice, a lot of practice, because there is no place where muralism is studied.