The Regional Editor of Extremadura has just published 'The Silence of the Invisible', the first work of this 27-year-old young woman from Zarca (although her roots come from Ribera del Fresno), who lives in Paris for professional reasons. She graduated in Fine Arts from the University of Seville, since 2016 she is, by competitive examination, a full professor of Plastic Arts at the French Ministry of Education.
How and when did your love for writing begin?
It's always been there. When I barely knew how to write, I had a red cloth notebook in which I kept unfinished stories about fairies and elves, and when I was 10 I started my poetry notebook. Many times, as a teenager, I started writing novels that I never finished, until one day I realized that it didn't have to be a novel, that that wasn't what interested me. My love for writing, as I conceive it today, was born one cold morning in November 2012, at the precise moment I wrote the text of "The Dutch Winter."
What are your favorite literary genres and why?
It's complicated. I could say that it is the novel, but not just any type of novel. Right now, and for several years, I especially enjoy reflective, and largely autobiographical, novels in which the internal monologue, sensitive and exhaustive descriptions, and the flow of thought prevail, in the vein of Virginia Woolf or James Joyce. I am also especially interested in the essay, the story and the diary, but it is not only about the genre, but also the style. I have a weakness for the contemplative, for the complexity of thought, for slowness, whether in the form of a novel, a diary, a story or short texts.
As you are passionate about reading, which authors do you prefer?
Virginia Woolf, James Joyce, Mary Shelley and Sylvia Plath are my four favorite authors now, because of the way in which they manage to combine depth and sensitivity. I also find wonder when I read the diaries, reflective writings, letters or biographies of some avant-garde painters, especially Gauguin, Van Gogh and Munch, because of that very plastic and at the same time so stormy way they perceive the world.
For a few years she has been living and working as a teacher in Paris. What can you tell us about her experience in the French capital?
I fell in love with Paris during my Erasmus stay, when I began to perceive the white skies, the bare trees and the golden light on the stone as sources of inspiration. I let myself be captivated by the romanticism of the city, by the silence of its streets, by the elegance of its buildings, by the magic of the Saint Sulspice square (which is one of my favorite places in the world)… and I quickly knew that my Parisian experience could not be finished yet. I returned to Paris to study my master's degree and let myself be carried away by circumstances until I ended up becoming a teacher. I have been teaching Fine Arts classes in high school for three years, trying, every day, to cultivate the sensitive gaze of my students. The hardest thing is being away from the people I love most and being aware of the amount of time I waste on transportation every day. For these two reasons, my experience in Paris has an expiration date. But I will always feel this city as a part of me.
'The silence of the invisible' is a collection of short texts. What will readers find in your compositions?
A set of impressions and sensations that are born from contemplation and that become words. The lightness of letting yourself be enveloped by a breath of air, the enchantment of contemplating the incidence of a ray of light on the stone, the slowness of appreciating the beauty that is hidden in the movement of a raindrop. The intimacy of looking at the silent splendor of what we do not see.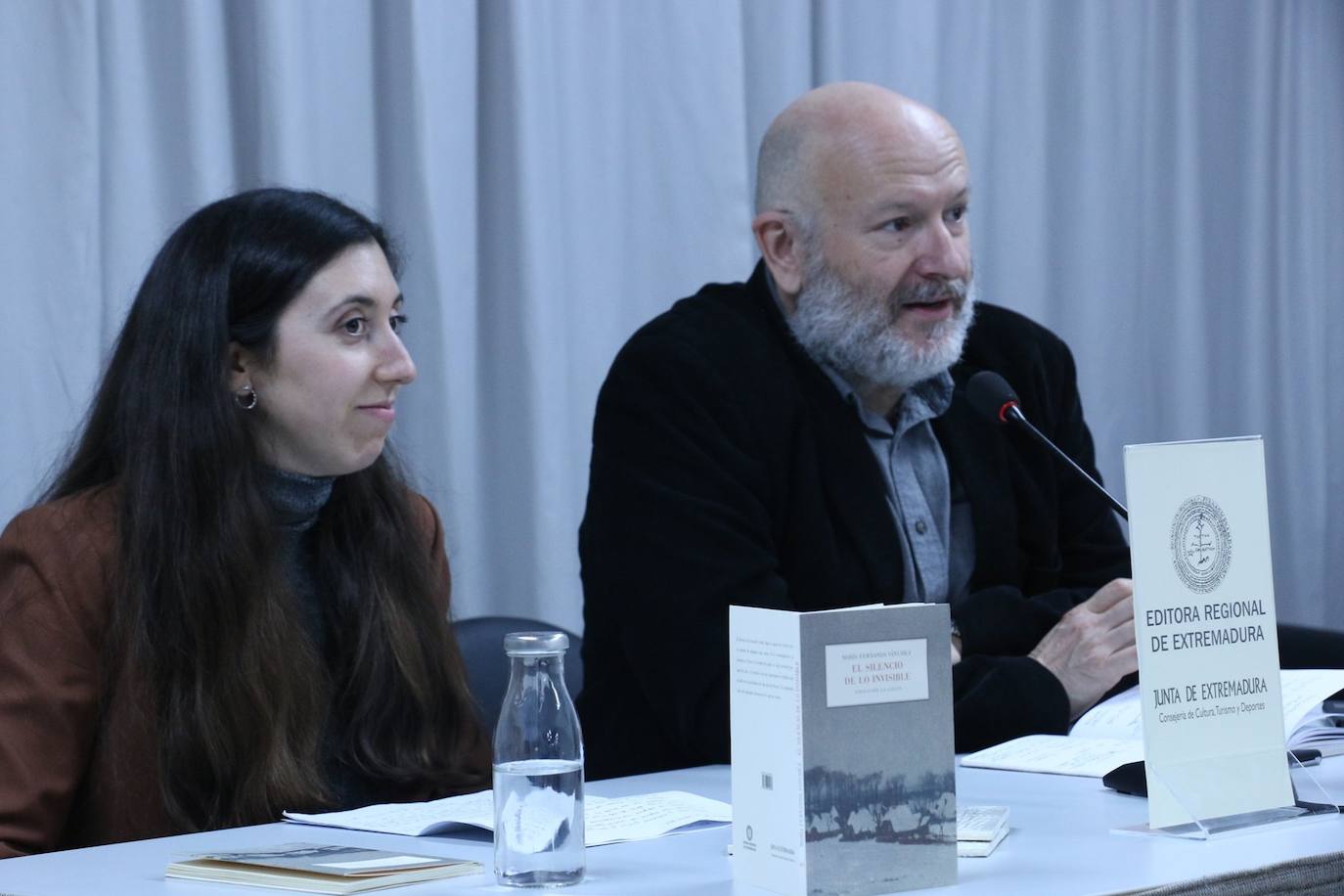 s. At that time I was already interested in the slowness of contemplation, in the silent splendor of everyday life, and my thesis spoke about the perception of beauty through my personal experience and that of authors such as François Cheng, Heidegger, Julia Kristeva, Didi-Huberman or Kant. One day I thought that "Le silence de l'invisible" (the thesis was in French), described well everything that was contained in those pages. And since then this title accompanied me almost like a way of life, because it summarized my way of perceiving and describing the world. When I began to compile the texts for this book, I realized that it could not be called anything else.
How does a Fine Arts graduate enter the world of literature?
Literature was there long before Fine Arts, but I believe that both worlds are inevitably linked, that they enrich each other and that one could not exist without the other. Sometimes I think that literature was my natural tendency, and that the Fine Arts came to disturb what was, in some way, evident. But I also believe that it is precisely the Fine Arts that make my relationship with literature what it is today. In the same way that literature influences my way of being a teacher and of transmitting the plastic arts to my students, the Fine Arts taught me to look and develop a certain sensitivity that, without intending it, I look for in everything I read and in everything I do. What I write.
What does the publication of your work by the Editora Regional Extremadura mean?
It is a very important and very complicated introspection exercise. Publishing a book was not among my goals, I only write for myself, out of necessity. When this opportunity came, I had to reflect a lot until I felt ready to accept being lenient with myself and push away fear and insecurity.
Did a particular person or situation inspire you to start writing?
I think there are a little bit of many people and many different situations; that they influenced, first, the literary universe that always surrounded my mother when she was a child and the stories that my father invented to help me sleep, but that there have been many experiences and many indispensable people who have gradually shaped who I am and reflecting in what I write. I am especially aware of the weight that my life in Paris or having met Jorge has had.
What moves you to write?
Beauty and love.
What childhood book do you remember for a special reason?
I fondly remember Beatrix Potter's storybook, for the tenderness and warmth of her words and illustrations. Once at school we were asked to bring our most precious gift and I brought that book. My favorite was the story of "The Tailor of Gloucester", it still comforts me to think about it because it reminds me of winter afternoons with my mother and sister. The intrepid adventures of cats and mice that my father invented were also very special. I loved them, because they were very fun and never ended.
Any book that has marked you?
"To the Lighthouse", by Virginia Woolf, marked a before and after in my way of conceiving literature.
What famous book would you have liked to write?
"The Waves", by Virginia Woolf.
Have you ever considered your future as a writer?
No, nor do I think it will. I am not able to associate literature with a profession because it would be something like corrupting it. I prefer to think that I am going to continue writing as before, because it comes from me, but without any goal.
Do you have any short-term literary projects?
No, just continue responding to the beauty around me and the moments of contemplation.
Finally, would you dare to recommend some readings?
"The Waves", by Virginia Woolf, and "The Bell Jar", by Sylvia Plath, are very intense novels that I find absolutely revealing. "Silk", by Alessandro Baricco, is one of the most delicate and beautiful books I have read.